RACE for the Orphans, Inc. is excited to announce that 9 amazing families will receive grants through this year's RACE for the Orphans Grant Program.  The 9th Annual RACE for the Orphans 5K will be held on May 8, 2021 and the more participants we have, the more money we can give to each family to help bring their children HOME.  Register today!
The Arenas Family, Newnan
Daniel and Courtney live in Newnan and are active members at First Baptist Church in Peachtree City.  Daniel grew up in Venezuela where his parents were missionaries and his sister is adopted.  "We feel led by God through this journey and we know that He will give us the child He has set aside for us."  The Arenas are pursuing a domestic adoption of a Hispanic or Latino child from here in America.
The Carswell Family, Newnan
 Lara and Robert live in Newnan and are active members of Faith Lutheran Church. Soon after they were married in 2006, they felt God calling them to have a large family, which seemed unattainable due to infertility. They now have three children through embryo adoption and are currently pursuing a domestic infant adoption. Their oldest son played a large role in planting the seed to move forward with this adoption. When leaving the 2019 RACE for Orphans 5K, he asked for another sibling, and knowing about the infertility issues stated, "there are so many orphans in the world, can we adopt?"
The Grasso Family, Cumming
Kevin, Rachel and their biological son Emmett (1) are currently living in Jerusalem while Kevin finishes his PhD, but they will be moving back to Georgia in April to focus on their adoption of two girls from Liberia, Rhoda (4) and Olivia (2). Both Kevin and Rachel felt the call to adopt before they were married. Paired with the clear truth presented in God's word to love and care for the vulnerable and orphaned, they decided to make adoption a priority in their married life. Adoption is also an intimate part of both of their families: Rachel's aunt was adopted, Kevin's younger brother was adopted at 3, and their niece was just recently adopted as an infant. They have marveled at how God has perfectly molded each of these precious souls into their family and are so grateful for the opportunity to continue that story.
The Greavu Family, Bishop
 Sam and Amanda live in Bishop where Sam is a physical therapist and Amanda works at Chosen for Life Ministries.  They are active members at Athens Church and currently have two adopted sons, one from America and one from China.  The Greavus are overjoyed to be pursuing another adoption of a boy from China.
The Harding Family, Leesburg
 Todd and Erin live in Leesburg with three of their four children and are active members at Gillionville Baptist Church.  They adopted Asa and Selah in 2014, and when their oldest child was preparing to leave for college, the Lord placed adoption on their hearts once again.  They are being obedient to fill their now empty spot in their home by displaying the Gospel and caring for the orphan.  The Hardings are pursuing a domestic adoption from here in America.
The Koenig Family, Fayetteville
 Matthew and Brooke live in Fayetteville with their two biological daughters where they are active members at Fayetteville First Baptist Church.  They have been foster parents for the past two years and are longing to grow their family in a permanent way through adoption.  "We have felt a passion for adopting for many years and we are excited to be pursuing a domestic adoption."
The Pogue Family, Dawsonville
Dax and Brooke live in Dawsonville with their two biological sons and 3-year-old girl they are fostering.  The Pogues have been in the process of adopting a young boy from Haiti for the past 5 1/2 years.  They are active members at Mountain Lake Church and are overwhelmed with gratitude to see the passion of adoption instilled in their hearts come to fruition.
The Romano Family, Palmetto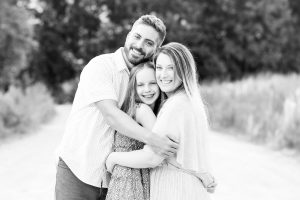 Lenny and Samantha live in Palmetto with their daughter and are active members at Crossroads Church.  The Romanos discussed adoption prior to marriage but it was in May of 2020 that God really started stirring in their hearts the desire to adopt.  They are pursuing a domestic adoption from here in America.
The Wood Family, Hartwell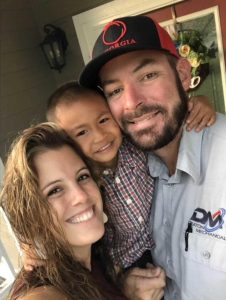 Kenneth and Jennifer live in Hartwell with their son, Wesley, who was adopted from China three years ago.  They are active members at Lavonia First Baptist Church and have a strong desire to adopt again so that Wesley will have a sibling to grow up with.  They are in the process of adopting from Colombia.