RACE for the Orphans is excited to award four deserving families grants through this year's RACE for the Orphans Grant Program.  More than 600 runners, walkers and volunteers participated in the 4th Annual RACE to help raise funds for these four amazing families so they can bring their children HOME!
The Deavers Family, LaGrange, GA
Tracey and Shannon Deavers have been married for 20 years and God burdened each of their hearts for adoption before getting married.  They have four biological children and soon to be four adopted children, all from China.  In 2009, when Tracey was leading a mission trip to China, he met their now 7-year-old son, Mei.  Over time they learned how people with limb differences in China are treated, and they knew if there was ever another child like Mei, they would act.  When the Deavers learned about Liam, who also has limb differences, they began to advocate for other families to adopt him but unfortunately this never happened.  In February 2015, Tracey and Shannon felt the Lord leading them to adopt Liam and they began the process of raising funds to make this happen.  They had every reason in the world to say "no" to another child.  They still have outstanding adoption and medical debt from prior special needs adoptions, they live with seven children on a pastor's salary, and they have crazy busy lives…but even with every reason to say "no," they knew God was saying "go" and they had no choice but to obey.  On April 4, 2016, Liam was united with his forever family and officially be a Deavers!
Tracey and Shannon live in LaGrange where Tracey serves as the Contemporary Pastor at First Baptist Church on the Square.  Shannon works as an administrative assistant to help meet the medical expenses of their children's therapies and special education tutoring.
 The Moody Family, Griffin, GA
Michael and Whittney have always had a desire to adopt, and they are excited that they have committed to adopt an almost 2-year-old little boy from China with Down Syndrome.  His name will be Maddox Charles Moody and they will call him Max.  After reading the description of Max, both Michael and Whittney thought he sounded so much like their 2-year-old biological son, Jude, who also has Down Syndrome–both boys love music and playing outside.  Max is currently living with a foster family in China.  The Moody's believe that adoption is a reminder that we have a Heavenly Father who pursued us and brought us into His family at great cost.  Adoption is woven throughout the Gospel and we can love because we have been loved.  The Moody's can welcome Max into their family because they have been welcomed as sons and daughters.  As the Moody's are in the long process to adopt Max, they covet our prayers and support.
Michael and Whittney have three biological children and live in Griffin, Georgia where Michael is the pastor of Journey Church as well as the director of a non-profit, Pennies for Posho.  Whittney works from home as a teacher for Georgia Cyber Academy.
The Lewis Family, Villa Rica, GA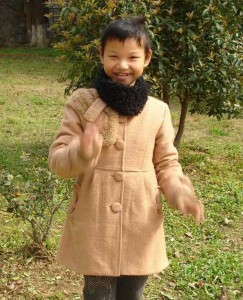 Michael and Alison have been married for 20 years and have a fun-loving 14-year-old biological son named Dalton.  During the summer of 2013, the Lewis family hosted a Chinese orphan named Hai in their home for 5 1/2 weeks.  The Lewis family fell in love with Hai and decided to pursue adopting her.  Unfortunately they did not meet the requirements to adopt from China at the time, so they advocated for Hai to be adopted by another American family.  This did not come to fruition, so in April 2015 the Lewis family saw Hai's face on a waiting child advocacy Facebook page and felt led to pursue her adoption again.  They were approved and are currently in China to bring their daughter home to her forever family!
Michael, Alison, and Dalton live in Villa Rica where they are members at Central Baptist Church.  Michael is a network engineer and Alison homeschools their son.  She has been doing research on homeschool programs for the deaf to use with Hai, who is 9-years-old, when she is finally home.
The Owens Family, Fayetteville, GA
Kellen and Kaycee were married in August of 2007.  The summer before their wedding, Kaycee spent time in South Africa working in an orphanage with children affected by AIDS.  Through her experiences and stories,  God gave the Owens' a calling to adopt, and in 2011 they began the process to adopt a child in Ethiopia.  In 2013, much to their surprise, they discovered Kaycee was pregnant! Abraham was born in June 2014, but Kellen and Kaycee's heart for adoption remained the same.  Finally, in August of 2015, the Owens were matched with a little boy*, 7 months younger than Abe, and are currently waiting to bring him home!
Kellen, Kaycee, and Abe live in Fayetteville where they are members of Crosspoint Community Church.  Kellen is a mathematics teacher to secondary school students and Kaycee manages a coffee shop.
*For legal reasons, at this time, we cannot include a picture of the Owens' son in Ethiopia.