RACE for the Orphans, Inc. is excited to announce that seven deserving families will receive grants through this year's RACE for the Orphans Grant Program.  Although the 8th Annual RACE for the Orphans 5K did not take place due to a worldwide pandemic, we are thankful to our generous Corporate Sponsors, partners, and donors for helping us still raise $41,000 for these seven families to help bring their children HOME!
The Martin Family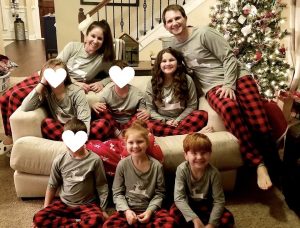 Justin is a worship pastor at Journey Community Church and Melissa is in sales. They have 3 biological children and in 2018 they hosted 3 siblings from the Ukraine. The Martins fell in love with the two boys and one girl and immediately started the process to adopt them. They are scheduled to fly to the Ukraine in early October 2020 for their first of three visits before bringing their new sons and daughter HOME!
The Gilliam Family
Bradford is a landscape contractor and Rebekah works part-time as a nurse and also homeschools their 2 biological children. The Gilliams have spent many years as foster parents with hopes to adopt. Their prayers were recently answered when baby Luther became their son! Please be in prayer for Luther's birth mother and for the Gilliams as they transition into a family of five.
The Sanders Family
Jared owns a carpentry business, Jana is a teacher, and they have three young daughters. The Sanders have always wanted to adopt, so after being in Haiti a few years ago and seeing so many children without families, Jared and Jana made the decision to step out in faith to pursue adopting from China.
The Williams Family
Nick works for Kraft and Allison works part-time in the foster care ministry at their church. They have two biological children and after fostering a little girl with medical needs, they adopted her! After this first adoption, Nick and Allison's eyes were opened to how many children are in need of families, especially children with medical needs, and they decided to pursue another adoption, this time from India.
The Sampler Family
Jason is the founder and president of Cornerstone Consulting, Terah works as a counselor, and they are very active at Mercy Hill Church. Jason and Terah have three biological children and have fostered 20 children, adopting three of them. Although they had no plans to adopt again, God moved in their hearts to adopt a sibling group of four from Colombia.  They will be traveling to Colombia in October 2020 to bring their four new children HOME!
The Self Family
Brian is the Pastor at Sargent Baptist Church and Alisha works for a government office as an administrative assistant.  They were 2018 RACE for the Orphans Grant Recipients and welcomed baby Everett into their home in January 2019.  God has moved in Brian and Alisha's heart to adopt domestically again.
The Farr Family
Donald is a school bus driver and Ginger is a special needs teacher.  They are active at Southcrest Church and felt God leading them to adopt a child with special needs.  In November 2019 they were able to bring their daughter, Maddie, home. The RACE Grant will help them finalize their adoption expenses.